General Slideway Protection Information:
Properties of our wipers match the stringent demands of Machine Tools.
Excellent mechanical properties resistant to mineral oil and coolants.

Hydrolyses.

Microorganisms.

Acids.

Alkaline solutions.

Benzene.

Operating temperatures up to 200 deg C (FPM material).
The wipers are available in the following material and codes:
PU (Polyurethane) NBR (Nitrile Rubber) normally stocked in our

KB-SW

wiper range.

PU (Polyurethane) NBR (Nitrile Rubber) normally stocked on steel telescopic cover wipers in our

KB-TW

range.

H-NBR (Hydrogenated Nitrile Rubber) Special request for these wipers.

FPM (Fluoric Rubber) also known as Viton (trademark of DuPont) Special request.
Special composites of NBR, H-NBR & PU are available, selection is based on the application for which they are used.
The support frames and casings are mostly manufactured from high grade steel, and where specified, aluminium, stainless steel & spring steel.

The normal elastomer compositions of NBR & FPM have a hardness of 83A with the standard colour being black. Harder and different colour combinations are available for the material H-NBR as per customer's request.
Our wipers are developed & manufacture in a variety of designs & sizes to meet the rigid high demands of keeping Machine Tool slides in optimum condition. Preventing the ingress of swarf, dirt and contamination will preserve the machines geometric accuracy. All wipers can be simply & quickly fitted to all CNC & Conventional Machine Tools, with both conventional and hydrostatic lubrication systems.
Click on the links below for further information:
Aluminium Apron Link Cover (Click image for more detail)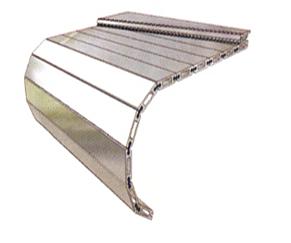 Bedway Telescopic Wiper (Click image for more detail)